North Carolina Tornado Shelters Features
America's Leading Underground Shelter!
When most customers are considering the acquisition of an Underground Storm Shelter, they are taking an effort in offering the very best and safest environment for their household. For various, buying a Security Shelter is a monetary investment into their relative security for numerous years, or even generations to come. The Underground Twister Shelter, consists of a polymer body, that has a lifetime surpassing all various other shelters on the marketplace. The Polyethylene building of the Safety Shelter, that under average and typical situations, will definitely provide a life-span that will definitely exceed 1,000 years.
With nearly 20 years of market leading underground storm shelter manufacturing & design experience, Granger Industries continues to demonstrate how it distinguishes itself from less capable, seasonal or fly by night storm shelter operations by providing safety and shelter for thousands upon thousands of households around the world. While the Granger ISS shelter remains to be America's leading underground shelter, an increasing number of households worldwide have bought the Granger ISS as their underground safety shelter response!
Granger ISS Tornado Shelter Gallery
The Granger ISS image gallery has various photos of the Underground Shelter units installed, being set up or being occupied. Please click the thumbnail image below you want to see in the larger image location to see the Granger ISS Storm cellar image. Detailed below the photo gallery, we have a number of videos disclosing functions, Third party testing and a whole lot more! The Granger ISS is the market leading, Storm Shelter advancement in The United States!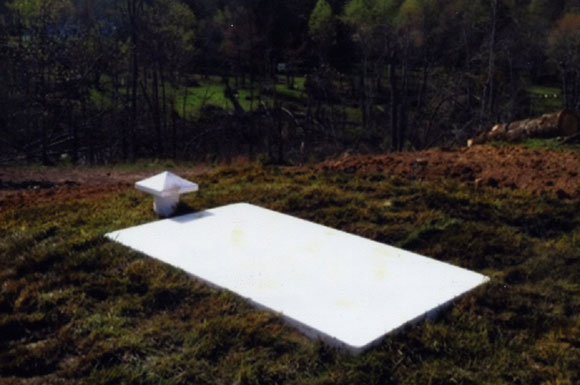 Granger ISS Underground Storm Shelter
Tornado Shelter features
The Granger ISS Tornado Shelter has industry leading features that no other Stom Shelter has including: Scroll over any of ther underlined features to see the Storm Shelter feature pop up
Double Wall, 1/2" thick (each wall) Polymer Construction
Lifetime warranty against cracking, leaking and floating!
Gas assisted shock for easy door opening & closing
Rotationally Molded Vent Cap
500+ year life span!
No anchoring required for typical installations!
Tornado Shelter Doors
Custom Color Tornado Shelter Doors!
Storm Shelter Color Door Upgrades - Forest Green

| | |
| --- | --- |
| | |
Storm Shelter Color Door Upgrades - Sandstone Granite

| | |
| --- | --- |
| | |
Tornado Shelter Color Door Upgrades - Solid Lt. Grey

| | |
| --- | --- |
| | |
Bullet Resistant Panel Option Available for Storm Shelters
The Granger Plastics Company remains to add innovation & breakthroughs to the building of the Granger ISS underground tornado shelter by adding a bullet resistant panel upgrade option to the market sector leading shelter door. The multi layer polymer door was tested at Texas Tech's Wind Science & Engineering Labs against FEMA 320 & FEMA 361 Debris Impact Standards. The Shelter door, bullet resistant panel upgrade option now being offered, will add to the level of protection offered from this distinct multi function shelter. Check out the complete news release to find out more on the Granger ISS market leading underground cyclone shelter door bullet resistant panel upgrade choices, click here.
A growing number of families are seeking protection and safety all throughout the country. As intimidating financial times remain to ravage areas, awful criminal activities are continually increasing all throughout. Many families are intending to include storm and tornado refuge, while having the safety and security of a panic room or safe room. The Granger ISS door can be upgraded to include a UL 752 certified Bullet Resistant panel, offering a great deal of security from commonly usedhandguns and weapons. Ask your local Granger ISS dealership for more information relating to the Granger ISS Bullet Resistant door panel upgrade!
Underground Storm Shelter Doors
Numerous underground shelter doors are made and created from substandard materials, many of these materials do not stand up to oxidation and UV rays. Whether it is the destruction of the door from the Ultra Violet rays or the damage of the door due to moisture and oxidation, many of these inadequately designed and developed doors will soon become safety threats as compared to those providing necessary security for their underground shelters. Take notice in the pictures detailed below just how other storm cellar doors created from inferior products break down in typical environments, namely Fiberglass Tornado Shelters and their Underground Steel counterparts.
| | |
| --- | --- |
| Steel Tornado Shelter Door Rusting Away | Fiberglass Door: A future liability issue? |
If you observe the doors above and to the right, the door on the right has an interior shock to make opening and closing the door easier. Nonetheless, as a result of unsatisfactory layout and engineering, the producer has selected to place the shock on the inside of the door. This creates a prospective protection danger issue, for the occupants of the shelter. If/When the doorway was to be affected, the shock could possibly be launched into the secure area of the shelter. Do not put your family's safety at threat! Ask to see the FEMA 320/FEMA 361 video clip and a copy of the record from the Debris Impact test facility!
Don't subject your family to potential flying projectiles INSIDE the shelter!
An actual sampling of another shelters Debris Impact Test report. Would you risk it?
Storm Shelter Doors: An Educational experience
Watch, listen and learn! As the Professor gives an informative lesson on differences of Storm Shelter doors. Learn why the Granger ISS offers the industry's best door protection!
How many people fit inside the Granger ISS Tornado Shelter?
8 University of Cincinnati Students inside the Granger ISS Storm Shelter

| | |
| --- | --- |
| | |
Video of a family of (7) in the Granger ISS
In the video above, watch as (7) members of a family check out the Granger ISS Tornado Shelter to see if their family comfortably fits, and easily exits from the Granger ISS Storm Shelter!
Easy Storm Shelter entrance
Watch the video below, as the small child in the video clip makes a quick and easy entrance into the Granger ISS Tornado Shelter. The Granger ISS features a molded, 3 step entrance with non-skid texturing molded right into the steps!
Easy Storm Shelter Installation!
In the video above, All American Exteriors of Metro Atlanta, Georgia puts in a Granger ISS Tornado Shelter for a customer! The Granger ISS includes a PATENTED reverse taper design, which permits for fast, simple installation in many situations!
The Granger ISS Underground Shelter has a warranty that supplies serenity to any customer. The limited life time warranty covers that there will certainly be no cracking, leaking, rotting, rusting or floating of the the polyethylene body with the life-time of the original owner. Proper shelter installment is needed to verify the warranty. Units improperly installed in flood tables are not covered by manufacturers warranty as flood plains are prospective safety dangers.
The Granger ISS features the easiest maintenance of any underground tornado shelter in the business. This regimen of maintenance consists of inspection and/or changing the batteries in the LED lighting system, every 3-6 months. Keep the interior of the shelter clean, dry and secure as possible. Keep the door security latches, hinges and components lubricated every 4-6 months. To find out more details concerning the Granger ISS Tornado Saferoom warranty, kindly consult your Granger ISS Dealership or Granger Plastics.
Patented Storm Shelter Design!
Have you noticed that a lot of other shelters are mirror images of each other? Most all underground steel shelters look alike, while most all fiberglass units use the same fundamental design & dated engineering as the most others. The Granger ISS features a PATENTED design. Not Patent Pending, Not Patent applied for, the Granger ISS features a PATENTED design. This distinct, reverse taper shape is the leading underground shelter layout in the market! Don't agree to cookie cutter knockoffs of poor designs! Go with the tried and tested leader, Granger Plastics! Granger has provided leading layout and manufacturing options for a number of industries varying from Aerospace, Defense, Automotive, Agri-Products, Chemicals, Material Handling and so so much more! Do not risk your family members protection with a business who has never designed an item, go with a proven innovator - Granger Plastics!
Tornado Shelter Manufacturing
Many less capable manufacturers claim to be "competitors" to the Granger ISS Tornado Shelter. However, as you will be able to see in the video above, the Granger ISS is the ONLY Patented, Single Family, Double Wall Polyethylene shelter on the market that is produced by an Internationally recognized leader in the Rotational Molding industry. A number of other Shelter companies build units with out-dated technology using Fiberglass Spraying equipment and some low end wood patterns. Some have elected to used their welding equipment to manufacture Tornado Shelters as fill in work, however, No other Storm Shelter manufacturing entity can tout the innovation of the Patented Granger ISS, the Rotational Molding capabilities or the millions of dollars in capital investments, tooling, research and development that Granger Industries has put fourth to be America's Leading Tornado Shelter Manufacturer!
North Carolina Granger ISS Storm Shelter Customers on the News!
An North Carolina customer of ABS Storm Shelters of Greensboro, NC tells a Triad Region News Channel why they purchased a Granger ISS Underground Storm Shelter.
Watch in the clip above, as a happy customer has her families Tornado Shelter installed with a Triad Region New Channel interviews the family! For more information about North Carolina Storm Shelters, please visit http://www.tsafetyshelters.com
America's Leading Underground Shelters on the News
Fox 19 news (Cincinnati, OH) covers the Granger ISS, America's leading Underground Storm Shelter and it's tremendous increase of sales during Tornado Season. For more information on Granger Plastics, please visit http://www.grangerplastics.com; For more information on Granger Industries, please visit http://www.grangerindustries.com.
Indiana Tornado Shelter dealers Smart Tech Homes gets interviewed by an Indiana News Channel for their recent spike in underground shelter sales!
Cincinnati, Ohio's CBS affiliate, WKRC covers the Granger Plastics Company's rotational molding innovation, the Granger ISS Storm Shelter. After a recent bad outbreak of storms and Tornadoes, Granger Plastics realized a growing demand for its superior quality, underground tornado shelter.
Tornado Shelter Testimonial
Read in the testimonial above how one Alabama Tornado survivor says that her selection of the Granger ISS Tornado Shelter was a "no brainer".
Underground Shelter Comparison Table
Click on the Storm Shelter Comparison Chart Below to Open/Download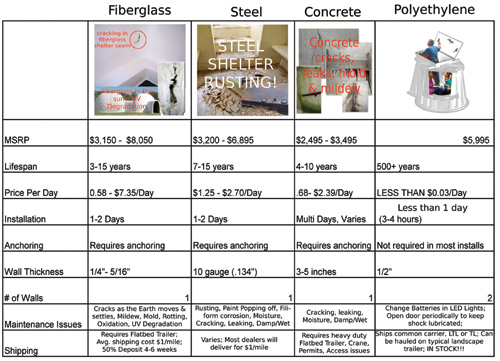 Click the Comparison Chart Above To Open The Comparison Table